HighBay Fixtures Easyline
---
Compact LED solution for industrial lighting
The use of state-of-the-art LED technology in conventional industrylighting provides a lot of advantages like an optimal light distribution and an increased lifetime all at an affordable price. The LED High-bay EasyLine is fully compatible with existing conventional lighting infrastructure, and are the perfect choice for both new and replacement markets.
Product benefits
Degree of protection: IP65
ENEC approved
Integrated LED diver
Product guarantee: 5 years
Suitable for luminaires with impact resistance IK08/5.0
Three different beam angles available
Efficiency: up to 157 lm/W
Long service life: up to 50.000 hrs.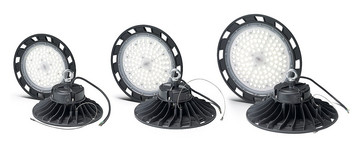 Choose a variant:
HighBay EasyLine 100W
| Ref. No. | Type |
| --- | --- |
| 570253 | HB-E-260-100-740-60 |
| 570254 | HB-E-260-100-740-90 |
| 570255 | HB-E-260-100-740-110 |
| 570256 | HB-E-260-100-765-60 |
| 570257 | HB-E-260-100-765-90 |
| 570258 | HB-E-260-100-765-110 |
| 571264 | HB-E-260-100-750-60 |
| 571265 | HB-E-260-100-750-90 |
| 571266 | HB-E-260-100-750-110 |
| 571729 | HB-E-260-100-840-90 |
| Ref. No. | Type | 2D data | 3D data |
| --- | --- | --- | --- |
| 570253 | HB-E-260-100-740-60 | | |
| 570254 | HB-E-260-100-740-90 | | |
| 570255 | HB-E-260-100-740-110 | | |
| 570256 | HB-E-260-100-765-60 | | |
| 570257 | HB-E-260-100-765-90 | | |
| 570258 | HB-E-260-100-765-110 | | |
| 571264 | HB-E-260-100-750-60 | | |
| 571265 | HB-E-260-100-750-90 | | |
| 571266 | HB-E-260-100-750-110 | | |
| 571729 | HB-E-260-100-840-90 | | |
| Ref. No. | Type | Mounting instruction |
| --- | --- | --- |
| 570253 | HB-E-260-100-740-60 | |
| 570254 | HB-E-260-100-740-90 | |
| 570255 | HB-E-260-100-740-110 | |
| 570256 | HB-E-260-100-765-60 | |
| 570257 | HB-E-260-100-765-90 | |
| 570258 | HB-E-260-100-765-110 | |
| 571264 | HB-E-260-100-750-60 | |
| 571265 | HB-E-260-100-750-90 | |
| 571266 | HB-E-260-100-750-110 | |
| 571729 | HB-E-260-100-840-90 | |
| Ref. No. | Type | | |
| --- | --- | --- | --- |
| 570253 | HB-E-260-100-740-60 | | |
| 570254 | HB-E-260-100-740-90 | | |
| 570255 | HB-E-260-100-740-110 | | |
| 570256 | HB-E-260-100-765-60 | | |
| 570257 | HB-E-260-100-765-90 | | |
| 570258 | HB-E-260-100-765-110 | | |
| 571264 | HB-E-260-100-750-60 | | |
| 571265 | HB-E-260-100-750-90 | | |
| 571266 | HB-E-260-100-750-110 | | |
| 571729 | HB-E-260-100-840-90 | | |
| Ref. No. | Type | 2D data | 3D data |
| --- | --- | --- | --- |
| 570253 | HB-E-260-100-740-60 | | |
| 570254 | HB-E-260-100-740-90 | | |
| 570255 | HB-E-260-100-740-110 | | |
| 570256 | HB-E-260-100-765-60 | | |
| 570257 | HB-E-260-100-765-90 | | |
| 570258 | HB-E-260-100-765-110 | | |
| 571264 | HB-E-260-100-750-60 | | |
| 571265 | HB-E-260-100-750-90 | | |
| 571266 | HB-E-260-100-750-110 | | |
| 571729 | HB-E-260-100-840-90 | | |
HighBay EasyLine 150W
| Ref. No. | Type |
| --- | --- |
| 570259 | HB-E-305-150-740-60 |
| 570260 | HB-E-305-150-740-90 |
| 570261 | HB-E-305-150-740-110 |
| 570262 | HB-E-305-150-765-60 |
| 570263 | HB-E-305-150-765-90 |
| 570264 | HB-E-305-150-765-110 |
| 571267 | HB-E-305-150-750-60 |
| 571268 | HB-E-305-150-750-90 |
| 571274 | HB-E-305-150-750-110 |
| 571730 | HB-E-305-150-840-90 |
| Ref. No. | Type | 2D data | 3D data |
| --- | --- | --- | --- |
| 570259 | HB-E-305-150-740-60 | | |
| 570260 | HB-E-305-150-740-90 | | |
| 570261 | HB-E-305-150-740-110 | | |
| 570262 | HB-E-305-150-765-60 | | |
| 570263 | HB-E-305-150-765-90 | | |
| 570264 | HB-E-305-150-765-110 | | |
| 571267 | HB-E-305-150-750-60 | | |
| 571268 | HB-E-305-150-750-90 | | |
| 571274 | HB-E-305-150-750-110 | | |
| 571730 | HB-E-305-150-840-90 | | |
| Ref. No. | Type | Mounting instruction |
| --- | --- | --- |
| 570259 | HB-E-305-150-740-60 | |
| 570260 | HB-E-305-150-740-90 | |
| 570261 | HB-E-305-150-740-110 | |
| 570262 | HB-E-305-150-765-60 | |
| 570263 | HB-E-305-150-765-90 | |
| 570264 | HB-E-305-150-765-110 | |
| 571267 | HB-E-305-150-750-60 | |
| 571268 | HB-E-305-150-750-90 | |
| 571274 | HB-E-305-150-750-110 | |
| 571730 | HB-E-305-150-840-90 | |
| Ref. No. | Type | | |
| --- | --- | --- | --- |
| 570259 | HB-E-305-150-740-60 | | |
| 570260 | HB-E-305-150-740-90 | | |
| 570261 | HB-E-305-150-740-110 | | |
| 570262 | HB-E-305-150-765-60 | | |
| 570263 | HB-E-305-150-765-90 | | |
| 570264 | HB-E-305-150-765-110 | | |
| 571267 | HB-E-305-150-750-60 | | |
| 571268 | HB-E-305-150-750-90 | | |
| 571274 | HB-E-305-150-750-110 | | |
| 571730 | HB-E-305-150-840-90 | | |
| Ref. No. | Type | 2D data | 3D data |
| --- | --- | --- | --- |
| 570259 | HB-E-305-150-740-60 | | |
| 570260 | HB-E-305-150-740-90 | | |
| 570261 | HB-E-305-150-740-110 | | |
| 570262 | HB-E-305-150-765-60 | | |
| 570263 | HB-E-305-150-765-90 | | |
| 570264 | HB-E-305-150-765-110 | | |
| 571267 | HB-E-305-150-750-60 | | |
| 571268 | HB-E-305-150-750-90 | | |
| 571274 | HB-E-305-150-750-110 | | |
| 571730 | HB-E-305-150-840-90 | | |
HighBay EasyLine 200W
| Ref. No. | Type |
| --- | --- |
| 570265 | HB-E-343-200-740-60 |
| 570266 | HB-E-343-200-740-90 |
| 570267 | HB-E-343-200-740-110 |
| 570268 | HB-E-343-200-765-60 |
| 570269 | HB-E-343-200-765-90 |
| 570270 | HB-E-343-200-765-110 |
| 571275 | HB-E-343-200-750-60 |
| 571278 | HB-E-343-200-750-90 |
| 571280 | HB-E-343-200-750-110 |
| 571731 | HB-E-343-200-840-90 |
| Ref. No. | Type | 2D data | 3D data |
| --- | --- | --- | --- |
| 570265 | HB-E-343-200-740-60 | | |
| 570266 | HB-E-343-200-740-90 | | |
| 570267 | HB-E-343-200-740-110 | | |
| 570268 | HB-E-343-200-765-60 | | |
| 570269 | HB-E-343-200-765-90 | | |
| 570270 | HB-E-343-200-765-110 | | |
| 571275 | HB-E-343-200-750-60 | | |
| 571278 | HB-E-343-200-750-90 | | |
| 571280 | HB-E-343-200-750-110 | | |
| 571731 | HB-E-343-200-840-90 | | |
| Ref. No. | Type | Mounting instruction |
| --- | --- | --- |
| 570265 | HB-E-343-200-740-60 | |
| 570266 | HB-E-343-200-740-90 | |
| 570267 | HB-E-343-200-740-110 | |
| 570268 | HB-E-343-200-765-60 | |
| 570269 | HB-E-343-200-765-90 | |
| 570270 | HB-E-343-200-765-110 | |
| 571275 | HB-E-343-200-750-60 | |
| 571278 | HB-E-343-200-750-90 | |
| 571280 | HB-E-343-200-750-110 | |
| 571731 | HB-E-343-200-840-90 | |
| Ref. No. | Type | | |
| --- | --- | --- | --- |
| 570265 | HB-E-343-200-740-60 | | |
| 570266 | HB-E-343-200-740-90 | | |
| 570267 | HB-E-343-200-740-110 | | |
| 570268 | HB-E-343-200-765-60 | | |
| 570269 | HB-E-343-200-765-90 | | |
| 570270 | HB-E-343-200-765-110 | | |
| 571275 | HB-E-343-200-750-60 | | |
| 571278 | HB-E-343-200-750-90 | | |
| 571280 | HB-E-343-200-750-110 | | |
| 571731 | HB-E-343-200-840-90 | | |
| Ref. No. | Type | 2D data | 3D data |
| --- | --- | --- | --- |
| 570265 | HB-E-343-200-740-60 | | |
| 570266 | HB-E-343-200-740-90 | | |
| 570267 | HB-E-343-200-740-110 | | |
| 570268 | HB-E-343-200-765-60 | | |
| 570269 | HB-E-343-200-765-90 | | |
| 570270 | HB-E-343-200-765-110 | | |
| 571275 | HB-E-343-200-750-60 | | |
| 571278 | HB-E-343-200-750-90 | | |
| 571280 | HB-E-343-200-750-110 | | |
| 571731 | HB-E-343-200-840-90 | | |