LED Line SMD W2.5 Light&Dark Full Spectrum
---
Full Spectrum LED modules for integration in VS Light&Dark System
Specific LED module design that perfectly matches to Light&Dark 7x1 optic system. By being available in black and white PCB colour, as well in both SELV and non-SELV connection option, Light&Dark Full Spectrum LED modules family offers flexibility in luminaire design and construction.
Product benefits
2 PCB colours available: white and black
Can be combined with VS optics
ENEC approved
Narrow colour tolerance: 3-step MacAdam
Optimized for SELV applications
Product guarantee: 5 years
Efficiency: up to 125 lm/W
Long service life: up to 36.000 hrs.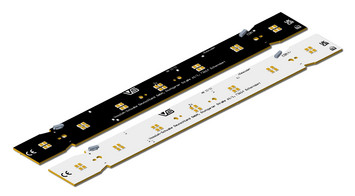 Choose a variant:
LED Line SMD W2.5 Light&Dark Full Spectrum, 280 mm
| Ref. No. | Type | LED quantity |
| --- | --- | --- |
| 572484 | WU-M-684-SL-W-LV-940 | 28 pcs. |
| 572490 | WU-M-684-SL-W-940 | 28 pcs. |
| 572491 | WU-M-684-SL-B-940 | 28 pcs. |
| 572492 | WU-M-684-SL-B-LV-940 | 28 pcs. |
| 572504 | WU-M-684-SL-B-965 | 28 pcs. |
| 572505 | WU-M-684-SL-W-LV-965 | 28 pcs. |
| 572506 | WU-M-684-SL-B-LV-965 | 28 pcs. |
| 572561 | WU-M-684-SL-W-965 | 28 pcs. |
| Ref. No. | Type | LED quantity | 2D data | 3D data |
| --- | --- | --- | --- | --- |
| 572484 | WU-M-684-SL-W-LV-940 | 28 pcs. | | |
| 572490 | WU-M-684-SL-W-940 | 28 pcs. | | |
| 572491 | WU-M-684-SL-B-940 | 28 pcs. | | |
| 572492 | WU-M-684-SL-B-LV-940 | 28 pcs. | | |
| 572504 | WU-M-684-SL-B-965 | 28 pcs. | | |
| 572505 | WU-M-684-SL-W-LV-965 | 28 pcs. | | |
| 572506 | WU-M-684-SL-B-LV-965 | 28 pcs. | | |
| 572561 | WU-M-684-SL-W-965 | 28 pcs. | | |
| Ref. No. | Type | | |
| --- | --- | --- | --- |
| 572484 | WU-M-684-SL-W-LV-940 | | |
| 572490 | WU-M-684-SL-W-940 | | |
| 572491 | WU-M-684-SL-B-940 | | |
| 572492 | WU-M-684-SL-B-LV-940 | | |
| 572504 | WU-M-684-SL-B-965 | | |
| 572505 | WU-M-684-SL-W-LV-965 | | |
| 572506 | WU-M-684-SL-B-LV-965 | | |
| 572561 | WU-M-684-SL-W-965 | | |
Ref. No.
Type
2D data
3D data
572484
WU-M-684-SL-W-LV-940

10
10
10
10
10
10
10
10
10
10
10
10
10
10
10

572490
WU-M-684-SL-W-940

10
10
10
10
10
10
10
10
10
10
10
10
10
10
10

572491
WU-M-684-SL-B-940

10
10
10
10
10
10
10
10
10
10
10
10
10
10
10

572492
WU-M-684-SL-B-LV-940

10
10
10
10
10
10
10
10
10
10
10
10
10
10
10

572504
WU-M-684-SL-B-965

10
10
10
10
10
10
10
10
10
10
10
10
10
10
10

572505
WU-M-684-SL-W-LV-965

10
10
10
10
10
10
10
10
10
10
10
10
10
10
10

572506
WU-M-684-SL-B-LV-965

10
10
10
10
10
10
10
10
10
10
10
10
10
10
10

572561
WU-M-684-SL-W-965

10
10
10
10
10
10
10
10
10
10
10
10
10
10
10