LED Line SMD W2.5 Light&Dark
---
LED modules for integration in VS Light&Dark System
Specific LED module design that perfectly matches to Dark&Light 7x1 optic system. By being available in black and white PCB colour, as well in both SELV and non-SELV connection option, Light&Dark LED modules family offers flexibility in luminaire design and construction.
Product benefits
Available in different colour temperatures
Available in different lengths
Can be combined with VS optics
Narrow colour tolerance: 3-step MacAdam
Optimized for SELV applications
Efficiency: up to 201 lm/W
Long service life: up to 72.000 hrs.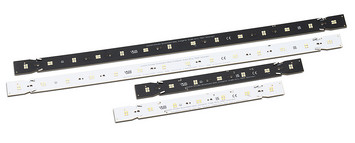 Choose a variant:
LED Line SMD W2.5 Light&Dark, 280 mm
| Ref. No. | Type | LED quantity | EU Declaration of Conformity | ENEC certificate |
| --- | --- | --- | --- | --- |
| 572096 | WU-M-684-W-LV-830 | 28 pcs. | | |
| 572097 | WU-M-684-W-LV-840 | 28 pcs. | | |
| 572098 | WU-M-684-B-LV-830 | 28 pcs. | | |
| 572099 | WU-M-684-B-LV-840 | 28 pcs. | | |
| 572100 | WU-M-684-W-LV-930 | 28 pcs. | | |
| 572101 | WU-M-684-W-LV-940 | 28 pcs. | | |
| 572102 | WU-M-684-B-LV-930 | 28 pcs. | | |
| 572103 | WU-M-684-B-LV-940 | 28 pcs. | | |
| 572104 | WU-M-684-W-830 | 28 pcs. | | |
| 572105 | WU-M-684-W-840 | 28 pcs. | | |
| 572106 | WU-M-684-B-830 | 28 pcs. | | |
| 572107 | WU-M-684-B-840 | 28 pcs. | | |
| 572108 | WU-M-684-W-930 | 28 pcs. | | |
| 572109 | WU-M-684-W-940 | 28 pcs. | | |
| 572110 | WU-M-684-B-930 | 28 pcs. | | |
| 572111 | WU-M-684-B-940 | 28 pcs. | | |
| 572200 | WU-M-684-W-865 | 28 pcs. | | |
| 572201 | WU-M-684-W-965 | 28 pcs. | | |
| 572202 | WU-M-684-B-865 | 28 pcs. | | |
| 572203 | WU-M-684-B-965 | 28 pcs. | | |
| 572209 | WU-M-684-W-LV-865 | 28 pcs. | | |
| 572210 | WU-M-684-W-LV-965 | 28 pcs. | | |
| 572211 | WU-M-684-B-LV-865 | 28 pcs. | | |
| 572212 | WU-M-684-B-LV-965 | 28 pcs. | | |
| Ref. No. | Type | LED quantity | 2D data | 3D data |
| --- | --- | --- | --- | --- |
| 572096 | WU-M-684-W-LV-830 | 28 pcs. | | |
| 572097 | WU-M-684-W-LV-840 | 28 pcs. | | |
| 572098 | WU-M-684-B-LV-830 | 28 pcs. | | |
| 572099 | WU-M-684-B-LV-840 | 28 pcs. | | |
| 572100 | WU-M-684-W-LV-930 | 28 pcs. | | |
| 572101 | WU-M-684-W-LV-940 | 28 pcs. | | |
| 572102 | WU-M-684-B-LV-930 | 28 pcs. | | |
| 572103 | WU-M-684-B-LV-940 | 28 pcs. | | |
| 572104 | WU-M-684-W-830 | 28 pcs. | | |
| 572105 | WU-M-684-W-840 | 28 pcs. | | |
| 572106 | WU-M-684-B-830 | 28 pcs. | | |
| 572107 | WU-M-684-B-840 | 28 pcs. | | |
| 572108 | WU-M-684-W-930 | 28 pcs. | | |
| 572109 | WU-M-684-W-940 | 28 pcs. | | |
| 572110 | WU-M-684-B-930 | 28 pcs. | | |
| 572111 | WU-M-684-B-940 | 28 pcs. | | |
| 572200 | WU-M-684-W-865 | 28 pcs. | | |
| 572201 | WU-M-684-W-965 | 28 pcs. | | |
| 572202 | WU-M-684-B-865 | 28 pcs. | | |
| 572203 | WU-M-684-B-965 | 28 pcs. | | |
| 572209 | WU-M-684-W-LV-865 | 28 pcs. | | |
| 572210 | WU-M-684-W-LV-965 | 28 pcs. | | |
| 572211 | WU-M-684-B-LV-865 | 28 pcs. | | |
| 572212 | WU-M-684-B-LV-965 | 28 pcs. | | |
| Ref. No. | Type | | |
| --- | --- | --- | --- |
| 572096 | WU-M-684-W-LV-830 | | |
| 572097 | WU-M-684-W-LV-840 | | |
| 572098 | WU-M-684-B-LV-830 | | |
| 572099 | WU-M-684-B-LV-840 | | |
| 572100 | WU-M-684-W-LV-930 | | |
| 572101 | WU-M-684-W-LV-940 | | |
| 572102 | WU-M-684-B-LV-930 | | |
| 572103 | WU-M-684-B-LV-940 | | |
| 572104 | WU-M-684-W-830 | | |
| 572105 | WU-M-684-W-840 | | |
| 572106 | WU-M-684-B-830 | | |
| 572107 | WU-M-684-B-840 | | |
| 572108 | WU-M-684-W-930 | | |
| 572109 | WU-M-684-W-940 | | |
| 572110 | WU-M-684-B-930 | | |
| 572111 | WU-M-684-B-940 | | |
| 572200 | WU-M-684-W-865 | | |
| 572201 | WU-M-684-W-965 | | |
| 572202 | WU-M-684-B-865 | | |
| 572203 | WU-M-684-B-965 | | |
| 572209 | WU-M-684-W-LV-865 | | |
| 572210 | WU-M-684-W-LV-965 | | |
| 572211 | WU-M-684-B-LV-865 | | |
| 572212 | WU-M-684-B-LV-965 | | |
Ref. No.
Type
2D data
3D data
572096
WU-M-684-W-LV-830

10
10
10
10
10
10
10
10
10
10
10
10
10
10
10

572097
WU-M-684-W-LV-840

10
10
10
10
10
10
10
10
10
10
10
10
10
10
10

572098
WU-M-684-B-LV-830

10
10
10
10
10
10
10
10
10
10
10
10
10
10
10

572099
WU-M-684-B-LV-840

10
10
10
10
10
10
10
10
10
10
10
10
10
10
10

572100
WU-M-684-W-LV-930

10
10
10
10
10
10
10
10
10
10
10
10
10
10
10

572101
WU-M-684-W-LV-940

10
10
10
10
10
10
10
10
10
10
10
10
10
10
10

572102
WU-M-684-B-LV-930

10
10
10
10
10
10
10
10
10
10
10
10
10
10
10

572103
WU-M-684-B-LV-940

10
10
10
10
10
10
10
10
10
10
10
10
10
10
10

572104
WU-M-684-W-830

10
10
10
10
10
10
10
10
10
10
10
10
10
10
10

572105
WU-M-684-W-840

10
10
10
10
10
10
10
10
10
10
10
10
10
10
10

572106
WU-M-684-B-830

10
10
10
10
10
10
10
10
10
10
10
10
10
10
10

572107
WU-M-684-B-840

10
10
10
10
10
10
10
10
10
10
10
10
10
10
10

572108
WU-M-684-W-930

10
10
10
10
10
10
10
10
10
10
10
10
10
10
10

572109
WU-M-684-W-940

10
10
10
10
10
10
10
10
10
10
10
10
10
10
10

572110
WU-M-684-B-930

10
10
10
10
10
10
10
10
10
10
10
10
10
10
10

572111
WU-M-684-B-940

10
10
10
10
10
10
10
10
10
10
10
10
10
10
10

572200
WU-M-684-W-865

10
10
10
10
10
10
10
10
10
10
10
10
10
10
10

572201
WU-M-684-W-965

10
10
10
10
10
10
10
10
10
10
10
10
10
10
10

572202
WU-M-684-B-865

10
10
10
10
10
10
10
10
10
10
10
10
10
10
10

572203
WU-M-684-B-965

10
10
10
10
10
10
10
10
10
10
10
10
10
10
10

572209
WU-M-684-W-LV-865

10
10
10
10
10
10
10
10
10
10
10
10
10
10
10

572210
WU-M-684-W-LV-965

10
10
10
10
10
10
10
10
10
10
10
10
10
10
10

572211
WU-M-684-B-LV-865

10
10
10
10
10
10
10
10
10
10
10
10
10
10
10

572212
WU-M-684-B-LV-965

10
10
10
10
10
10
10
10
10
10
10
10
10
10
10
LED Line SMD W2.5 Light&Dark, 560 mm
| Ref. No. | Type | LED quantity | EU Declaration of Conformity | ENEC certificate |
| --- | --- | --- | --- | --- |
| 572112 | WU-M-685-W-LV-830 | 56 pcs. | | |
| 572113 | WU-M-685-W-LV-840 | 56 pcs. | | |
| 572114 | WU-M-685-B-LV-830 | 56 pcs. | | |
| 572115 | WU-M-685-B-LV-840 | 56 pcs. | | |
| 572116 | WU-M-685-W-LV-930 | 56 pcs. | | |
| 572117 | WU-M-685-W-LV-940 | 56 pcs. | | |
| 572118 | WU-M-685-B-LV-930 | 56 pcs. | | |
| 572119 | WU-M-685-B-LV-940 | 56 pcs. | | |
| 572120 | WU-M-685-W-830 | 56 pcs. | | |
| 572121 | WU-M-685-W-840 | 56 pcs. | | |
| 572122 | WU-M-685-B-830 | 56 pcs. | | |
| 572123 | WU-M-685-B-840 | 56 pcs. | | |
| 572124 | WU-M-685-W-930 | 56 pcs. | | |
| 572125 | WU-M-685-W-940 | 56 pcs. | | |
| 572126 | WU-M-685-B-930 | 56 pcs. | | |
| 572127 | WU-M-685-B-940 | 56 pcs. | | |
| 572205 | WU-M-685-W-865 | 56 pcs. | | |
| 572206 | WU-M-685-W-965 | 56 pcs. | | |
| 572207 | WU-M-685-B-865 | 56 pcs. | | |
| 572208 | WU-M-685-B-965 | 56 pcs. | | |
| 572213 | WU-M-685-W-LV-865 | 56 pcs. | | |
| 572214 | WU-M-685-W-LV-965 | 56 pcs. | | |
| 572215 | WU-M-685-B-LV-865 | 56 pcs. | | |
| 572216 | WU-M-685-B-LV-965 | 56 pcs. | | |
| Ref. No. | Type | LED quantity | 2D data | 3D data |
| --- | --- | --- | --- | --- |
| 572112 | WU-M-685-W-LV-830 | 56 pcs. | | |
| 572113 | WU-M-685-W-LV-840 | 56 pcs. | | |
| 572114 | WU-M-685-B-LV-830 | 56 pcs. | | |
| 572115 | WU-M-685-B-LV-840 | 56 pcs. | | |
| 572116 | WU-M-685-W-LV-930 | 56 pcs. | | |
| 572117 | WU-M-685-W-LV-940 | 56 pcs. | | |
| 572118 | WU-M-685-B-LV-930 | 56 pcs. | | |
| 572119 | WU-M-685-B-LV-940 | 56 pcs. | | |
| 572120 | WU-M-685-W-830 | 56 pcs. | | |
| 572121 | WU-M-685-W-840 | 56 pcs. | | |
| 572122 | WU-M-685-B-830 | 56 pcs. | | |
| 572123 | WU-M-685-B-840 | 56 pcs. | | |
| 572124 | WU-M-685-W-930 | 56 pcs. | | |
| 572125 | WU-M-685-W-940 | 56 pcs. | | |
| 572126 | WU-M-685-B-930 | 56 pcs. | | |
| 572127 | WU-M-685-B-940 | 56 pcs. | | |
| 572205 | WU-M-685-W-865 | 56 pcs. | | |
| 572206 | WU-M-685-W-965 | 56 pcs. | | |
| 572207 | WU-M-685-B-865 | 56 pcs. | | |
| 572208 | WU-M-685-B-965 | 56 pcs. | | |
| 572213 | WU-M-685-W-LV-865 | 56 pcs. | | |
| 572214 | WU-M-685-W-LV-965 | 56 pcs. | | |
| 572215 | WU-M-685-B-LV-865 | 56 pcs. | | |
| 572216 | WU-M-685-B-LV-965 | 56 pcs. | | |
| Ref. No. | Type | | |
| --- | --- | --- | --- |
| 572112 | WU-M-685-W-LV-830 | | |
| 572113 | WU-M-685-W-LV-840 | | |
| 572114 | WU-M-685-B-LV-830 | | |
| 572115 | WU-M-685-B-LV-840 | | |
| 572116 | WU-M-685-W-LV-930 | | |
| 572117 | WU-M-685-W-LV-940 | | |
| 572118 | WU-M-685-B-LV-930 | | |
| 572119 | WU-M-685-B-LV-940 | | |
| 572120 | WU-M-685-W-830 | | |
| 572121 | WU-M-685-W-840 | | |
| 572122 | WU-M-685-B-830 | | |
| 572123 | WU-M-685-B-840 | | |
| 572124 | WU-M-685-W-930 | | |
| 572125 | WU-M-685-W-940 | | |
| 572126 | WU-M-685-B-930 | | |
| 572127 | WU-M-685-B-940 | | |
| 572205 | WU-M-685-W-865 | | |
| 572206 | WU-M-685-W-965 | | |
| 572207 | WU-M-685-B-865 | | |
| 572208 | WU-M-685-B-965 | | |
| 572213 | WU-M-685-W-LV-865 | | |
| 572214 | WU-M-685-W-LV-965 | | |
| 572215 | WU-M-685-B-LV-865 | | |
| 572216 | WU-M-685-B-LV-965 | | |
Ref. No.
Type
2D data
3D data
572112
WU-M-685-W-LV-830

10
10
10
10
10
10
10
10
10
10
10
10
10
10
10

572113
WU-M-685-W-LV-840

10
10
10
10
10
10
10
10
10
10
10
10
10
10
10

572114
WU-M-685-B-LV-830

10
10
10
10
10
10
10
10
10
10
10
10
10
10
10

572115
WU-M-685-B-LV-840

10
10
10
10
10
10
10
10
10
10
10
10
10
10
10

572116
WU-M-685-W-LV-930

10
10
10
10
10
10
10
10
10
10
10
10
10
10
10

572117
WU-M-685-W-LV-940

10
10
10
10
10
10
10
10
10
10
10
10
10
10
10

572118
WU-M-685-B-LV-930

10
10
10
10
10
10
10
10
10
10
10
10
10
10
10

572119
WU-M-685-B-LV-940

10
10
10
10
10
10
10
10
10
10
10
10
10
10
10

572120
WU-M-685-W-830

10
10
10
10
10
10
10
10
10
10
10
10
10
10
10

572121
WU-M-685-W-840

10
10
10
10
10
10
10
10
10
10
10
10
10
10
10

572122
WU-M-685-B-830

10
10
10
10
10
10
10
10
10
10
10
10
10
10
10

572123
WU-M-685-B-840

10
10
10
10
10
10
10
10
10
10
10
10
10
10
10

572124
WU-M-685-W-930

10
10
10
10
10
10
10
10
10
10
10
10
10
10
10

572125
WU-M-685-W-940

10
10
10
10
10
10
10
10
10
10
10
10
10
10
10

572126
WU-M-685-B-930

10
10
10
10
10
10
10
10
10
10
10
10
10
10
10

572127
WU-M-685-B-940

10
10
10
10
10
10
10
10
10
10
10
10
10
10
10

572205
WU-M-685-W-865

10
10
10
10
10
10
10
10
10
10
10
10
10
10
10

572206
WU-M-685-W-965

10
10
10
10
10
10
10
10
10
10
10
10
10
10
10

572207
WU-M-685-B-865

10
10
10
10
10
10
10
10
10
10
10
10
10
10
10

572208
WU-M-685-B-965

10
10
10
10
10
10
10
10
10
10
10
10
10
10
10

572213
WU-M-685-W-LV-865

10
10
10
10
10
10
10
10
10
10
10
10
10
10
10

572214
WU-M-685-W-LV-965

10
10
10
10
10
10
10
10
10
10
10
10
10
10
10

572215
WU-M-685-B-LV-865

10
10
10
10
10
10
10
10
10
10
10
10
10
10
10

572216
WU-M-685-B-LV-965

10
10
10
10
10
10
10
10
10
10
10
10
10
10
10
LED Line SMD W2.5 Light&Dark, 140 mm
| Ref. No. | Type | LED quantity | Family data sheet | Length | Width | Height | LED technology | LED colour | Correlated colour temperature | Beam angle | IP protection |
| --- | --- | --- | --- | --- | --- | --- | --- | --- | --- | --- | --- |
| 572493 | WU-M-696-W-LV-830 | 16 pcs. | | 139 mm | 25 mm | 4.3 mm | SMD | warm white | 3000 K | 120° | IP00 |
| 572494 | WU-M-696-W-LV-840 | 16 pcs. | | 139 mm | 25 mm | 4.3 mm | SMD | neutral white | 4000 K | 120° | IP00 |
| 572495 | WU-M-696-W-LV-930 | 16 pcs. | | 139 mm | 25 mm | 4.3 mm | SMD | warm white | 3000 K | 120° | IP00 |
| 572496 | WU-M-696-W-LV-940 | 16 pcs. | | 139 mm | 25 mm | 4.3 mm | SMD | neutral white | 4000 K | 120° | IP00 |
| 572497 | WU-M-696-B-LV-830 | 16 pcs. | | 139 mm | 25 mm | 4.3 mm | SMD | warm white | 3000 K | 120° | IP00 |
| 572498 | WU-M-696-B-LV-840 | 16 pcs. | | 139 mm | 25 mm | 4.3 mm | SMD | neutral white | 4000 K | 120° | IP00 |
| 572499 | WU-M-696-B-LV-930 | 16 pcs. | | 139 mm | 25 mm | 4.3 mm | SMD | warm white | 3000 K | 120° | IP00 |
| 572500 | WU-M-696-B-LV-940 | 16 pcs. | | 139 mm | 25 mm | 4.3 mm | SMD | neutral white | 4000 K | 120° | IP00 |
| 572538 | WU-M-696-W-830 | 16 pcs. | | 139 mm | 25 mm | 4.3 mm | SMD | warm white | 3000 K | 120° | IP00 |
| 572539 | WU-M-696-W-840 | 16 pcs. | | 139 mm | 25 mm | 4.3 mm | SMD | neutral white | 4000 K | 120° | IP00 |
| 572540 | WU-M-696-W-965 | 16 pcs. | | 139 mm | 25 mm | 4.3 mm | SMD | cool white | 6500 K | 120° | IP00 |
| 572541 | WU-M-696-W-LV-965 | 16 pcs. | | 139 mm | 25 mm | 4.3 mm | SMD | cool white | 6500 K | 120° | IP00 |
| 572542 | WU-M-696-B-830 | 16 pcs. | | 139 mm | 25 mm | 4.3 mm | SMD | warm white | 3000 K | 120° | IP00 |
| 572543 | WU-M-696-B-840 | 16 pcs. | | 139 mm | 25 mm | 4.3 mm | SMD | neutral white | 4000 K | 120° | IP00 |
| 572544 | WU-M-696-B-965 | 16 pcs. | | 139 mm | 25 mm | 4.3 mm | SMD | cool white | 6500 K | 120° | IP00 |
| 572545 | WU-M-696-B-LV-965 | 16 pcs. | | 139 mm | 25 mm | 4.3 mm | SMD | cool white | 6500 K | 120° | IP00 |
Ref. No.
Type
LED quantity
Operating current
Typ. voltage DC
Typ. power consumption
572493
WU-M-696-W-LV-830
16 pcs.

100 mA
150 mA
200 mA
250 mA
350 mA

21.3 V
21.7 V
22.1 V
22.5 V
23.4 V

2.1 W
3.2 W
4.4 W
5.6 W
8.2 W

572494
WU-M-696-W-LV-840
16 pcs.

100 mA
150 mA
200 mA
250 mA
350 mA

21.3 V
21.7 V
22.1 V
22.5 V
23.4 V

2.1 W
3.2 W
4.4 W
5.6 W
8.2 W

572495
WU-M-696-W-LV-930
16 pcs.

100 mA
150 mA
200 mA
250 mA
350 mA

21.3 V
21.7 V
22.1 V
22.5 V
23.4 V

2.1 W
3.2 W
4.4 W
5.6 W
8.2 W

572496
WU-M-696-W-LV-940
16 pcs.

100 mA
150 mA
200 mA
250 mA
350 mA

21.3 V
21.7 V
22.1 V
22.5 V
23.4 V

2.1 W
3.2 W
4.4 W
5.6 W
8.2 W

572497
WU-M-696-B-LV-830
16 pcs.

100 mA
150 mA
200 mA
250 mA
350 mA

21.3 V
21.7 V
22.1 V
22.5 V
23.4 V

2.1 W
3.2 W
4.4 W
5.6 W
8.2 W

572498
WU-M-696-B-LV-840
16 pcs.

100 mA
150 mA
200 mA
250 mA
350 mA

21.3 V
21.7 V
22.1 V
22.5 V
23.4 V

2.1 W
3.2 W
4.4 W
5.6 W
8.2 W

572499
WU-M-696-B-LV-930
16 pcs.

100 mA
150 mA
200 mA
250 mA
350 mA

21.3 V
21.7 V
22.1 V
22.5 V
23.4 V

2.1 W
3.2 W
4.4 W
5.6 W
8.2 W

572500
WU-M-696-B-LV-940
16 pcs.

100 mA
150 mA
200 mA
250 mA
350 mA

21.3 V
21.7 V
22.1 V
22.5 V
23.4 V

2.1 W
3.2 W
4.4 W
5.6 W
8.2 W

572538
WU-M-696-W-830
16 pcs.

150 mA
200 mA
350 mA
500 mA
700 mA

10.6 V
10.7 V
10.9 V
11.3 V
11.7 V

1.6 W
2.1 W
3.8 W
5.6 W
8.2 W

572539
WU-M-696-W-840
16 pcs.

150 mA
200 mA
350 mA
500 mA
700 mA

10.6 V
10.7 V
10.9 V
11.3 V
11.7 V

1.6 W
2.1 W
3.8 W
5.6 W
8.2 W

572540
WU-M-696-W-965
16 pcs.

150 mA
200 mA
350 mA
500 mA
700 mA

10.6 V
10.7 V
10.9 V
11.3 V
11.7 V

1.6 W
2.1 W
3.8 W
5.6 W
8.2 W

572541
WU-M-696-W-LV-965
16 pcs.

100 mA
150 mA
200 mA
250 mA
350 mA

21.3 V
21.7 V
22.1 V
22.5 V
23.4 V

2.1 W
3.2 W
4.4 W
5.6 W
8.2 W

572542
WU-M-696-B-830
16 pcs.

150 mA
200 mA
350 mA
500 mA
700 mA

10.6 V
10.7 V
10.9 V
11.3 V
11.7 V

1.6 W
2.1 W
3.8 W
5.6 W
8.2 W

572543
WU-M-696-B-840
16 pcs.

150 mA
200 mA
350 mA
500 mA
700 mA

10.6 V
10.7 V
10.9 V
11.3 V
11.7 V

1.6 W
2.1 W
3.8 W
5.6 W
8.2 W

572544
WU-M-696-B-965
16 pcs.

150 mA
200 mA
350 mA
500 mA
700 mA

10.6 V
10.7 V
10.9 V
11.3 V
11.7 V

1.6 W
2.1 W
3.8 W
5.6 W
8.2 W

572545
WU-M-696-B-LV-965
16 pcs.

100 mA
150 mA
200 mA
250 mA
350 mA

21.3 V
21.7 V
22.1 V
22.5 V
23.4 V

2.1 W
3.2 W
4.4 W
5.6 W
8.2 W
Ref. No.
Type
LED quantity
Current
Typ. luminous flux at If
Typ. efficiency at If
Typ. CRI (Ra)
572493
WU-M-696-W-LV-830
16 pcs.

100 mA
150 mA
200 mA
250 mA
350 mA

405 lm
605 lm
800 lm
995 lm
1365 lm

190 lm/W
186 lm/W
182 lm/W
176 lm/W
167 lm/W