For installation in compact luminaires
Compact LED drivers with DALI-DIM interface and integrated NFC interface for individual adjustment (contactless) of the output current. Suitable for controlling Tunable White Light according to DALI Device Type 8 (DT8).
Product benefits
Dimmable: DALI (Ed. 2)
Product guarantee: 5 years
Selectable output current via NFC
Tunable White DALI Device Type 8 (DT8)
Very low ripple: < 1%
Long service life: up to 100.000 hrs.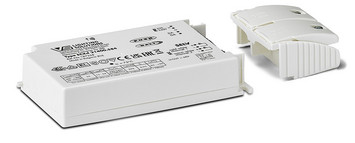 Choose a variant:
PrimeLine NFC C TW DALI2
| Ref. No. | Type | Max. output power at AC operation | EU Declaration of Conformity | ENEC certificate |
| --- | --- | --- | --- | --- |
| 187257 | ECXd 21050.583 | 38 W | | |
| 187258 | ECXd21400.584 | 55 W | | |
| Ref. No. | Type | Max. output power at AC operation | 2D data | 3D data |
| --- | --- | --- | --- | --- |
| 187257 | ECXd 21050.583 | 38 W | | |
| 187258 | ECXd21400.584 | 55 W | | |
| Ref. No. | Type | Max. output power at AC operation | Software |
| --- | --- | --- | --- |
| 187257 | ECXd 21050.583 | 38 W | |
| 187258 | ECXd21400.584 | 55 W | |
| Ref. No. | Type | | |
| --- | --- | --- | --- |
| 187257 | ECXd 21050.583 | | |
| 187258 | ECXd21400.584 | | |
| Ref. No. | Type | 2D data | 3D data |
| --- | --- | --- | --- |
| 187257 | ECXd 21050.583 | | |
| 187258 | ECXd21400.584 | | |