LEDSpots for furniture and residential lighting
As the perfect replacement for traditional halogen spotlights, these LEDSpots with an SMD LED are available with a round or square frame and are ideal for use in furnitures, shelves and false ceilings. A LEDSpot with rounded front part that cleary sets it apart from any other spotlights. The elegant, simple design with rounded front part makes it perfect for creating the right lighting atmosphere. This LEDSpot is available as constant current or constant voltage version.
Product benefits
Fixation springs suitable for different materials
Made in Italy
Product guarantee: 5 years
Round and square shape
Long service life: up to 50.000 hrs.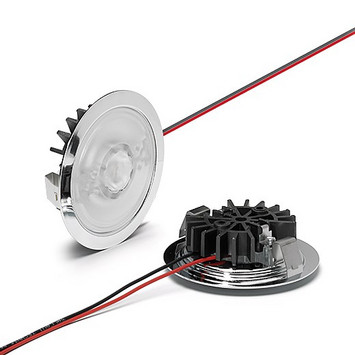 Choose a variant:
SmartLine 12 V
| Ref. No. | Type |
| --- | --- |
| 568262 | SmartLine 160lm 840 36° SI R Clips |
| 569249 | SmartLine 160lm 830 36° SI R Clips |
| Ref. No. | Type | 2D data | 3D data |
| --- | --- | --- | --- |
| 568262 | SmartLine 160lm 840 36° SI R Clips | | |
| 569249 | SmartLine 160lm 830 36° SI R Clips | | |
| Ref. No. | Type |
| --- | --- |
| 568262 | SmartLine 160lm 840 36° SI R Clips |
| 569249 | SmartLine 160lm 830 36° SI R Clips |
| Ref. No. | Type | | |
| --- | --- | --- | --- |
| 568262 | SmartLine 160lm 840 36° SI R Clips | | |
| 569249 | SmartLine 160lm 830 36° SI R Clips | | |
| Ref. No. | Type | 2D data | 3D data |
| --- | --- | --- | --- |
| 568262 | SmartLine 160lm 840 36° SI R Clips | | |
| 569249 | SmartLine 160lm 830 36° SI R Clips | | |