LEDSpots for furniture and residential lighting
Extremely small, round single LED spot, perfect for brilliant shelf lighting. This powerful, high-quality, easily adaptable LED spot is available as a constant current or constant voltage version.
Product benefits
Compact and slim design
Made in Italy
Narrow colour tolerance: 3-step MacAdam
Product guarantee: 5 years
Long service life: up to 50.000 hrs.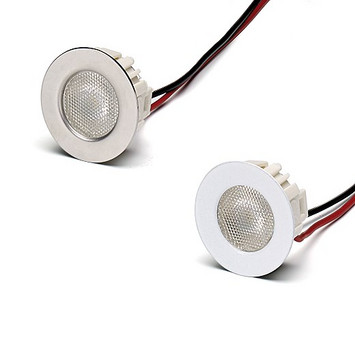 Choose a variant:
Tiny 350 mA
| Ref. No. | Type |
| --- | --- |
| 565884 | Tiny 130lm 830 36° WH |
| 565885 | Tiny 130lm 845 36° WH |
| 563913 | Tiny 130lm 830 36° SI |
| 563915 | Tiny 130lm 845 36° SI |
| 566611 | Tiny 130lm 830 36° WH Plug |
| Ref. No. | Type | 2D data | 3D data |
| --- | --- | --- | --- |
| 565884 | Tiny 130lm 830 36° WH | | |
| 565885 | Tiny 130lm 845 36° WH | | |
| 563913 | Tiny 130lm 830 36° SI | | |
| 563915 | Tiny 130lm 845 36° SI | | |
| 566611 | Tiny 130lm 830 36° WH Plug | | |
| Ref. No. | Type |
| --- | --- |
| 565884 | Tiny 130lm 830 36° WH |
| 565885 | Tiny 130lm 845 36° WH |
| 563913 | Tiny 130lm 830 36° SI |
| 563915 | Tiny 130lm 845 36° SI |
| 566611 | Tiny 130lm 830 36° WH Plug |
| Ref. No. | Type | | |
| --- | --- | --- | --- |
| 565884 | Tiny 130lm 830 36° WH | | |
| 565885 | Tiny 130lm 845 36° WH | | |
| 563913 | Tiny 130lm 830 36° SI | | |
| 563915 | Tiny 130lm 845 36° SI | | |
| 566611 | Tiny 130lm 830 36° WH Plug | | |
| Ref. No. | Type | 2D data | 3D data |
| --- | --- | --- | --- |
| 565884 | Tiny 130lm 830 36° WH | | |
| 565885 | Tiny 130lm 845 36° WH | | |
| 563913 | Tiny 130lm 830 36° SI | | |
| 563915 | Tiny 130lm 845 36° SI | | |
| 566611 | Tiny 130lm 830 36° WH Plug | | |