ComfortLine Terminal UIT-345
---
In-Track Pro: Complete integration of LED driver into the track trail
Adapter with integrated LED driver electronics for common 3-phase track systems. Selectable current output by secondary side terminal. Available in two different casing colours: white and black.
Product benefits
Compatible with different 3-phase track systems
Product guarantee: 5 years
Selectable output current via connection terminal
SELV
Very low ripple: < 3%
Long service life: up to 100.000 hrs.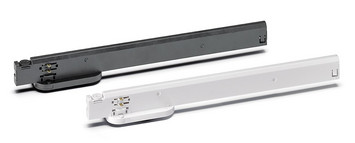 Choose a variant:
ComfortLine Terminal UIT-345
| Ref. No. | Type | Max. output power at AC operation | EU Declaration of Conformity | CB certificate | ENEC certificate |
| --- | --- | --- | --- | --- | --- |
| 186932 | ECXe 1050.388 | 45 W | | | |
| 186966 | ECXe 1050.388 | 45 W | | | |
| Ref. No. | Type | Max. output power at AC operation | 2D data |
| --- | --- | --- | --- |
| 186932 | ECXe 1050.388 | 45 W | |
| 186966 | ECXe 1050.388 | 45 W | |
| Ref. No. | Type | Max. output power at AC operation |
| --- | --- | --- |
| 186932 | ECXe 1050.388 | 45 W |
| 186966 | ECXe 1050.388 | 45 W |
| Ref. No. | Type | | |
| --- | --- | --- | --- |
| 186932 | ECXe 1050.388 | | |
| 186966 | ECXe 1050.388 | | |
| Ref. No. | Type | 2D data | 3D data |
| --- | --- | --- | --- |
| 186932 | ECXe 1050.388 | | |
| 186966 | ECXe 1050.388 | | |